VIP Member

Posts: 6774
Joined: Mon Dec 19, 2005 11:46 am
Location: Adelaide
Has thanked: 277 times
Been thanked: 1117 times
Going before the DAc this coming Thursday.
10 storey hotel and apartments.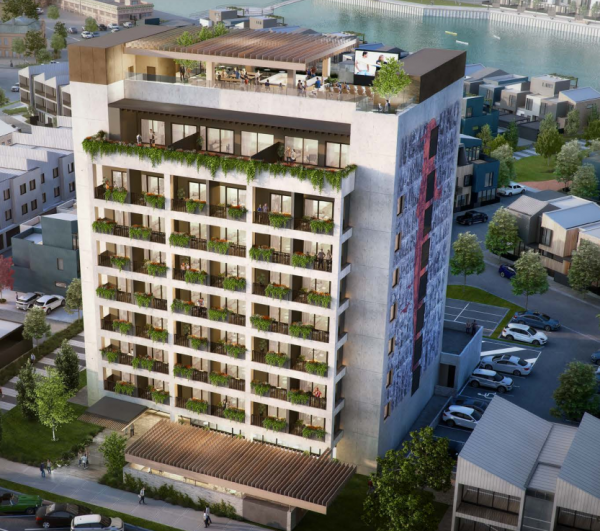 https://www.saplanningcommission.sa.gov ... hments.pdf
---
High Rise Poster!
Posts: 268
Joined: Tue Jul 08, 2014 7:23 pm
Has thanked: 14 times
Been thanked: 48 times
Ben

wrote:

↑

Fri Oct 18, 2019 12:46 pm

Going before the DAc this coming Thursday.

10 storey hotel and apartments.

https://www.saplanningcommission.sa.gov ... hments.pdf
starfish developments wins approval for 30 million Port Adelaide hotel.
NEW HOTEL A revamp of derelict land in Port Adelaide will turn its tallest building into a hotel – and build ten floating suites reminiscent of island resorts.
I Follow The Port Adelaide Football Club
https://www.facebook.com/IFollowThePAFC/
---
---
Legendary Member!
Posts: 949
Joined: Thu Jul 18, 2013 10:39 am
Has thanked: 13 times
Been thanked: 160 times
The transformation of Port Adelaide's tallest building into a boutique hotel has been given the green light by the State Government's development panel.

The State Commission Assessment Panel approved the plan from Starfish Developments, which will form part of its broader $168 million waterfront housing development, Dock One.

Left vacant and derelict for more than two decades, the old Marine and Harbors building on St Vincent St will include 71 rooms across its ten levels – and ten floating suites directly over the Port River.

A bar and outdoor cinema will also be built on the rooftop, and a restaurant downstairs.

Starfish was set to engage a consultant to choose an operator for the hotel in the next two weeks.

The Advertiser understands a number of hotel companies that already operate in Adelaide have voiced interest in the site.

The brutalist, board-formed concrete DMH building – constructed in 1971 – has occasionally been used for Star Force training since it was vacated in the mid 1990s and earlier this year hosted a theatrical production.

Its design will honour the brutalist nature of the building by retaining existing '70s elements, including exposed concrete, original brass fittings and signage.

The panel reserved a number of small matters for further assessment, including a final landscaping design and a list of external materials.

It will be the first tourism development in the Port since the $25 million Quest Apartments Hotel opened next to the Fisherman's Wharf Markets in 2016.

That development has had an occupancy rate of more than 90 per cent since it opened.

Starfish managing director Damon Nagel was excited to get on with the "super unique project".

"Having an ex-government, derelict building repurposed into a hotel is something that is really exciting for the Port and Adelaide at large," Mr Nagel said.

"To be fair to SCAP, they were very nervous about on-water development … but what we're really trying to do is get the water activated.

"That's what Port Adelaide needs."

Starfish last year won approval from the State Government's development panel for the first stage of its Dock One development.

At its completion, the development will feature 750 homes in townhouses and apartments along with public spaces including a waterside piazza and boardwalk.
---
Sen-Rookie-Sational
Posts: 19
Joined: Wed Jun 12, 2019 1:32 am
Been thanked: 21 times
I think the life is returning to the port finally. I was surprised with the new vibe in the area already. I stayed at the Quest & loved my few days there. It can only get better from here. It may not not be what everyone wants but at least SOMEthing is happening, better then nothing lol.

Sent from my SM-G935F using Tapatalk


---
Who is online
Users browsing this forum: No registered users and 21 guests