I'll start of with 2 buildings which due to their sites are quite relevant for discussion.
The first one was proposed back in 2002 for the site now intended for the Hills World HQ. The development was for a 9 level building rising to a height of 29m. The building was purely residential with the exception of the ground floor which included some retail tenancies. This project actually came before council in 2003, where if memory serves me correctly was rejected because it contained to many apartments for the size of the building. The developers behind it never lodged a revised application.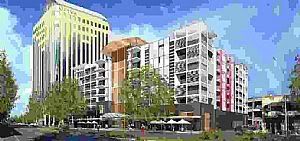 The second never built was intended for the former Repco site ae 374-400 KWS. Prior to the current project there were 3 previous proposals which all failed to get off the ground, with this one either the first or second proposal. This project was known as 'Queens Apartments'. Pre-selling for these apartments was rather underwhelming leading to this projects axing.